We are currently putting the Visitor's Rides page on HOLD. We are thinking of setting this page up for the Forum's Selected Visitor's Ride of the month. If you have any feedback, let us know on the forum. Visit the forums here: Forums
Visitor's Trucks: 1 2 3 4 5 6 7 8 9 10 11 12 13 14 15 16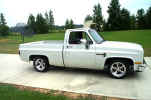 Mike Ervin sent us this great looking 1985 C10. Mike has swapped out the 305 for a 350, dropped the truck with a 2/4 drop, and added Flowmaster 50 series muffler. Mike's truck also features components from CompCams, Edelbrock, MSD Ignition, and more. Mike has added Auto-Meter gauges and has plans to paint it in the near future. Thanks for the picture Mike.

JK sent us this picture of his hard-working 1983 K20. It is an all original Custom Deluxe with 80K miles on it. It is equipped with a 6.2 Diesel, SM465 Transmission, 10 Bolt front axle, and 14 Bolt rear axle. JK's future plans for the truck include swapping the front axle for a Dana 60 and the rear axle for a 14 bolt full floater. Thanks for the picture JK.

Dave Cross sent us this sharp 1985 C-10 Scottsdale. Dave did all the work himself including all the body work, spraying the acrylic enamel and clear coat, and building the 300hp 350 Chevy. The truck was originally equipped with only an automatic transmission, deluxe front end, and air conditioning. Dave is installing Silverado door panels and plans to add intermittent wipers, cruise control, tilt column, new rear gears, and a shift kit for the TH350C tranny. Thanks for the picture Dave.

Steve Curet sent us this picture of his Titanic Suburban. This monster sports a ZZ3 crate motor, Dana 60 front axle, Detroit 14 bolt rear axle, 8 inch Skyjacker rear springs, crossover steering conversion, and a pair of 44" Boggers and 44" Groundhawgs mounted on 16.5" wheels. Thanks for the picture Steve.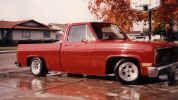 Gary Bettencourt gets the distinctive honor of having the first truly custom truck posted on this page. Gary purchased his 1981 Chevy pickup with a 5/7 drop and Weld Racing rims from a previous owner. Since then he's added a billet grill, tinted the windows, installed a CD player and put in new carpet and a new seat. Power is provided by a 305 Chevy that's been modified with an RV cam and a K&N air filter. Thanks for the picture Gary.